Baking gourmet treats for dogs since 2016.
We proudly produce homemade, small batch treats for dogs. Our treats are made with fresh produce and quality ingredients that are free of wheat, animal products, additives and preservatives. Perfect for the dog with allergies or as a healthy, nutritious snack.
With eco friendly packaging and a range of treats to suit all tastebuds (we guarantee they'll get you drooling too!), you'll want to have your pantry stocked with Veggie Paws.
No mass production. No questionable ingredients.
We promise only healthy treats, handmade in our own kitchen, with love.






100% Natural
*Excludes iced treats
Nicole started Veggie Paws in October 2016 with two dedicated taste testers at her side, Cider and Balto. She works hard to bring you quality, gourmet treats that your dogs will love.
Palm Oil free Certification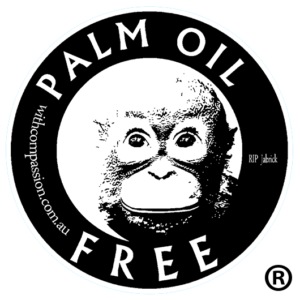 The International Palm Oil free Certification Accreditation Programme ( POFCAP ) has developed a Palm Oil Free Certification Trademark and Certification Accreditation Programme allowing companies to submit their products for assessment and if successful, certification. This is a world first, and POFCAP has been approved to certify products in many countries around the world.
The Palm Oil free Certification Accreditation Programme was developed to aid consumers in finding products which have been assessed by our independent, registered and approved Palm Oil Free Certification Programme and found to be palm oil and palm oil derivative free.
It was also developed to create a new funding stream to assist organisations on the ground around the world working to protect rainforests and all they contain.
Manufacturing products to be palm oil free is quickly becoming the next ethical and environmental step towards true sustainability. For further information please visit palmoilfreecertification.org
The following products have undergone extensive research and are now CERTIFIED Palm Oil Free by the Palm Oil Free Certification Accreditation Programme (POFCAP) and have PERMISSION TO USE the Palm Oil Free Certification Trademark Logo on the packaging of the following products;
SUPAW GREEN SMOOTHIE 150G BOX
SUPAW GREEN SMOOTHIE LARGE PAW
WATERMELON SLUSHIE 150G BOX
WATERMELON SLUSHIE LARGE PAW
MANGO CHEESECAKE 150G BOX
MANGO CHEESECAKE LARGE PAW
CARROT CAKE 150G BOX
CARROT CAKE LARGE PAW
BLUEBERRY PIE GRAIN FREE 150G BOX
BLUEBERRY PIE GRAIN FREE LARGE PAW
FRUIT SALAD 150G BOX
CARROTS 150G BOX
SPRINKLE DONUTS
PINE LIME DONUTS
FAIRY FLOSS DONUTS
FAIRYBREAD LARGE PAW