Flourish – Plant-Based Diets
Flourish is a natural wholefood supplement for plant-based diets with added taurine, l-carnitine and vitamin B-12.
Made in South Australia
Grain free
Plant based ingredients
Preservative free
Fully compostable pouch
Woofalicious!
Veggie Paws Flourish | Nutritional Supplement for Dogs.
Compliments home prepared meals to help achieve a balanced diet for your dog.
WHAT IS FLOURISH
Flourish for Plant Based diets and Flourish for Raw Food diets are made from a comprehensive blend of nutrient rich ingredients such as seeds, nuts, wheatgrass and kelp. They are carefully formulated to help achieve a balanced diet for your dog by addressing common nutrient deficiencies in homemade vegan or raw (meat) meals.
WHY USE FLOURISH
Adding Flourish to your dog's homemade meal is a simple, healthy way to help your dog achieve optimal nutrition. Flourish contains micronutrients that may be lacking in your dog's diet, such as zinc, manganese, selenium, vitamins, and amino acids. Use our suggested recipes for a balanced diet or add to your own meals for a big nutrient boost!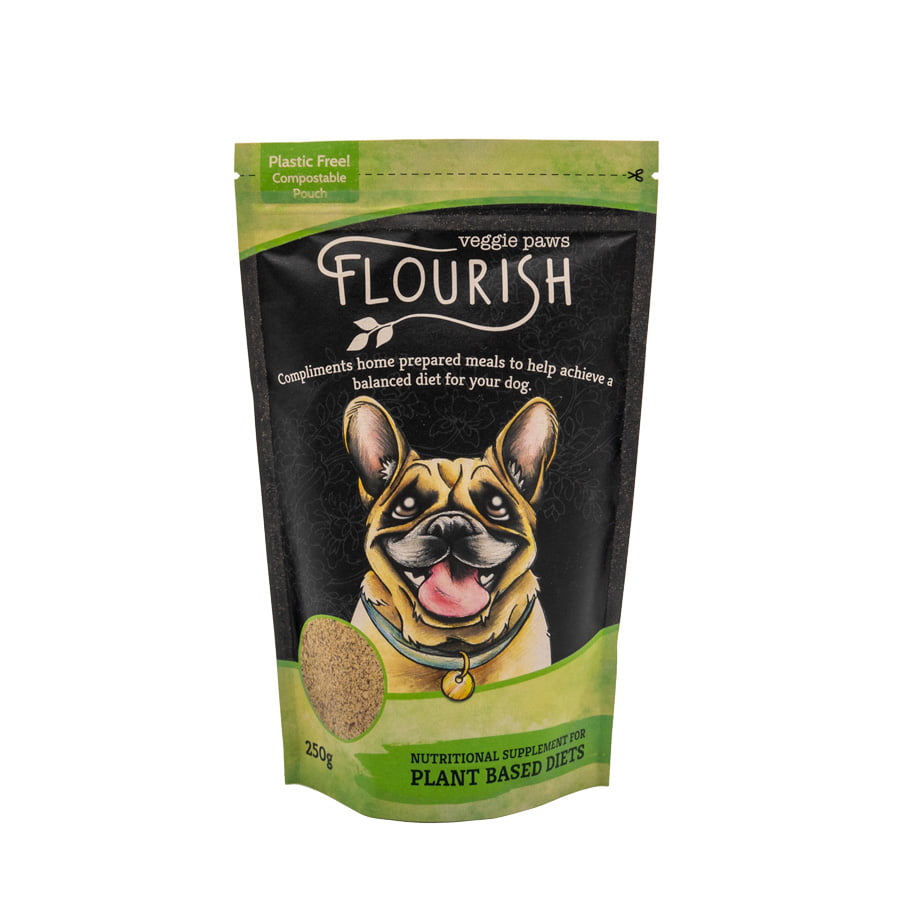 Flourish for Plant Based Diets
Formulated by a specialist in dog nutrition, Flourish for Plant Based Diets is a nutritional supplement for dogs which targets the common nutrient deficiencies in home prepared, plant-based meals.
Flourish uses wholefoods to provide your dog with a source of vital nutrients and amino acids such as manganese, zinc and selenium. It is also supplemented with vitamin B12, taurine and l-carnitine.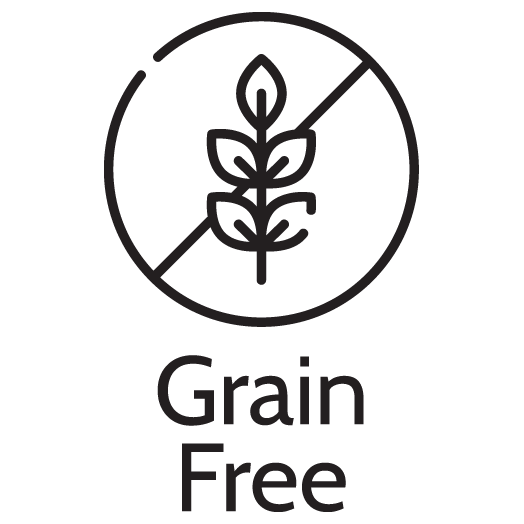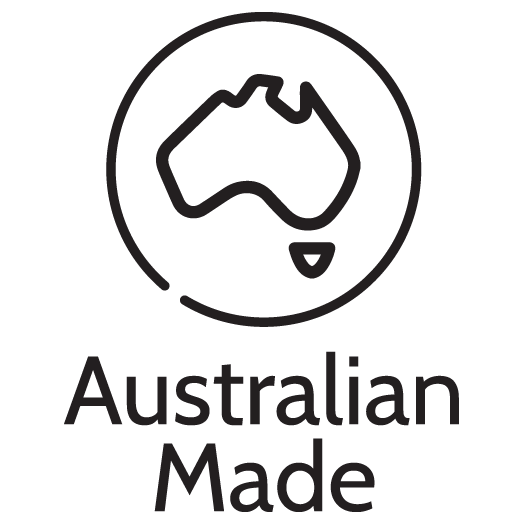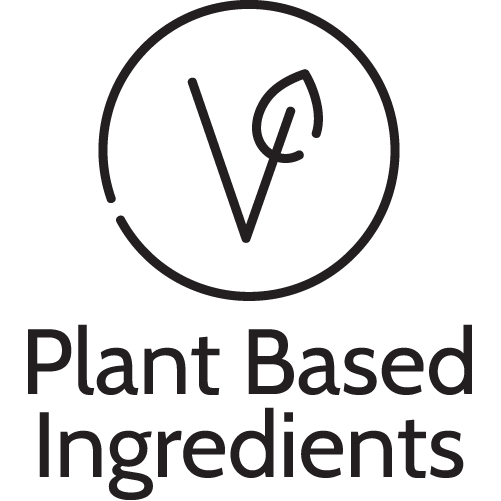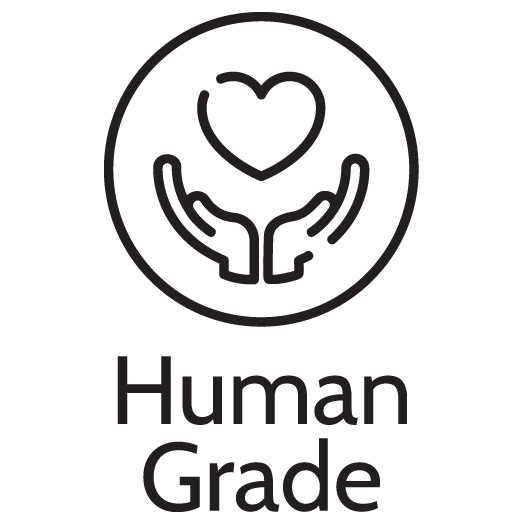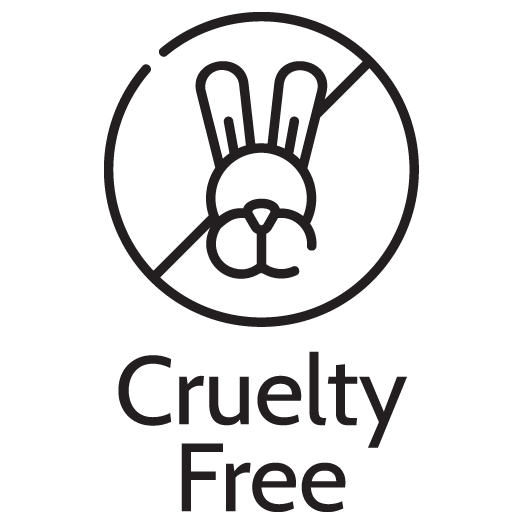 INGREDIENTS
Flaxmeal, sunflower seeds, pumpkin seeds, kelp powder, sesame seeds, wheatgrass powder, brazil nuts, shiitake mushroom powder, calcium carbonate, vitamin B12, l-carnitine, taurine.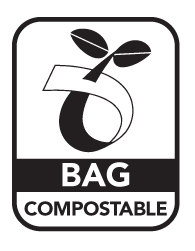 INSTRUCTIONS
Measure 1g per kg of bodyweight per day. Mix well into your dog's home prepared meal at serving temperature.
eg. A 12kg dog would require a serving size of 12g of Flourish added to their meal daily.
Use Flourish with our suggested recipes to achieve a balanced diet for your dog, or add to your own meals for a big nutrient boost.
Store sealed in a cool, dry place. Once opened consume within 90 days.
Recommended for dogs 12+ months.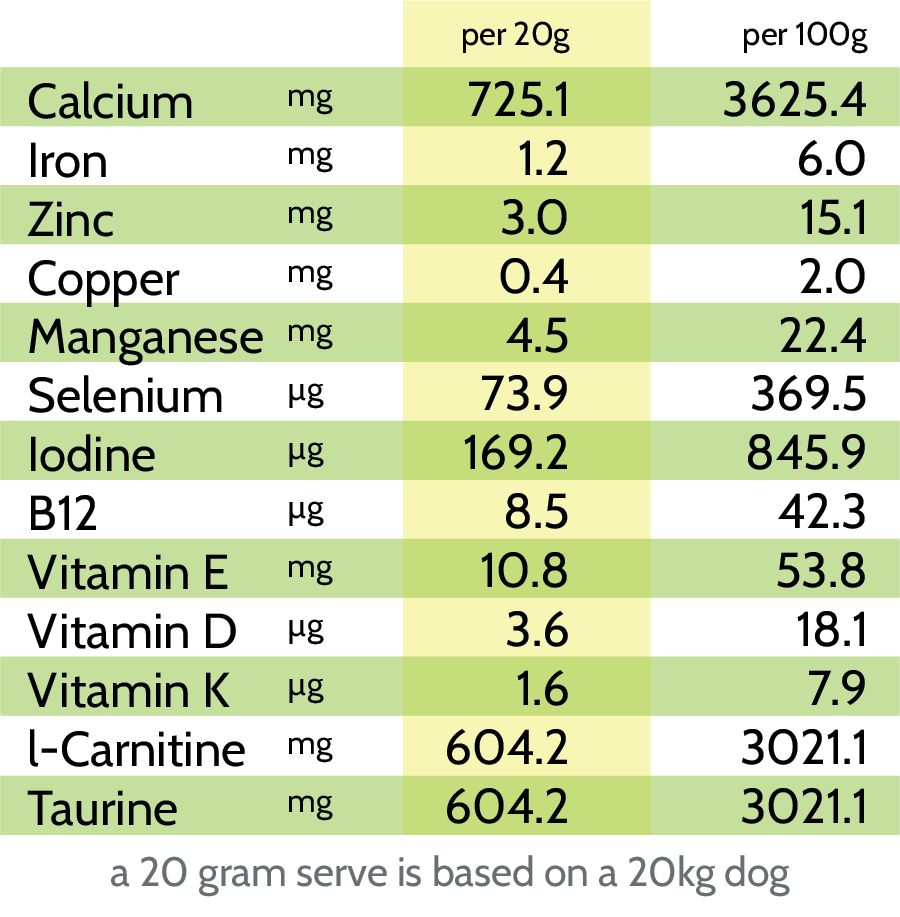 Plant Based recipe suggestion
This recipe is based on a 20kg dog.
Ingredients
425g cooked lentils
150g cooked quinoa
100g raw spinach
200g cooked pumpkin
20g Flourish Plant Based Food supplement
Optional: add a small amount of hemp seed oil or flax seed oil for an Omega-3 boost.
Instructions
Blend the cooked lentils, cooked quinoa, raw spinach and cooked pumpkin. Allow ingredients to cool to room temperature.
Mix Flourish Plant Based food supplement into meal thoroughly before serving.
Nutritional Data
Energy – 804.1kcal | Protein – 51.8g | Calcium – 826.7mg | Iron – 21.2mg | Magnesium – 397.9mg | Phosphorus – 1206.2mg | Potassium – 2954.8mg | Sodium – 1421.3mg | Zinc – 10.5mg | Copper – 2mg | Manganese – 7.7mg | Selenium – 78.7µg | Iodine – 140ug | Thiamin – 1.4mg | Riboflavin – 7.4mg | Niacin – 12.9mg | Pantothenic acid – 4.2mg | Pyridoxine – 2.3mg | Folic acid – 1053.8µg | B12 – 8.5ug | Vitamin A, RAE – 1043.2µg | Vitamin A, IU – 9423.4IU | Vitamin E – 11mg | Vitamin D3 – 3.1µg | Vitamin K – 492.9µg | Tryptophan – 0.5g | Threonine – 1.8g | Isoleucine – 2.2g | Leucine – 3.6g | Lysine – 3.3g | Methionine + Cystine – 0.6g | Phenylalanine + Tyrosine – 2.5g | Valine – 2.5g | Arginine – 4g | Histidine – 1.4g | l-Carnitine – 604.2mg | Taurine – 604.2mg
*values calculated from a nutritional database. Values are approximate and there may be seasonal variation in ingredient values.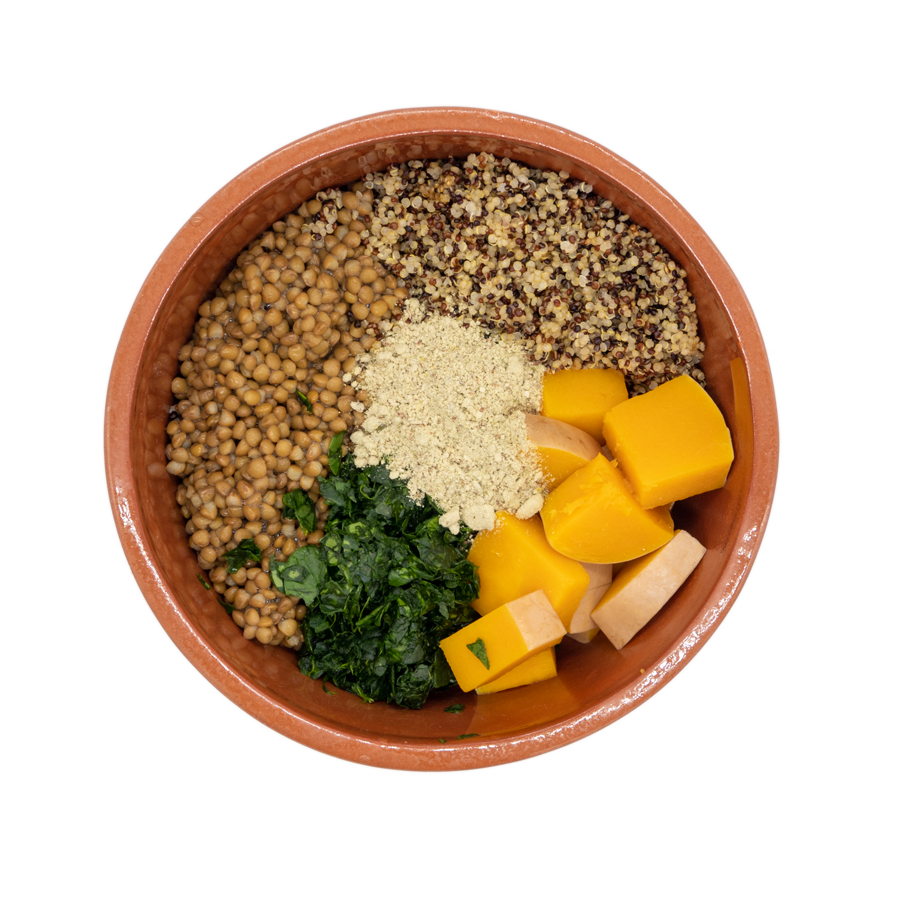 Important Information
This recipe is an entire day's serving of food. Your can:
Serve one full meal a day

Serve half in the morning, and half at night.

Feed a commercially prepared food for one meal a day (e.g., kibble), and half of this recipe for the other meal.
Please scale this meal according to your dog's weight.
This recipe was designed for a 20kg adult dog who does light exercise. Your dog may have different caloric needs based on a number of factors such as their weight, age, and activity levels. Always monitor your dog and adjust the volume of food according to their needs.
If you would like a Flourish meal plan designed specifically for your dog's needs, we recommend a tailored nutritional consult with Functional Canine. Use the code MEMBERS10 for 10% off your initial consult.

When used in conjunction with our suggested recipe, Flourish is designed to provide a balanced diet for your dog. However, all dogs are different and some may have different nutritional needs and requirements. As such, we recommend consulting with your veterinarian before beginning a new food routine. Always maintain regular checkups with your vet.