Now you and your dog can help remove waste plastic from the environment … one toy at a time! Clean Earth plush toys are made from 100% Recycled plastic water bottles, including the fabric, stuffing, binding and thread. Each toy redirects waste from up to 9 plastic water bottles from ending up in oceans, waterways and landfills. Clean Earth plush toys includes a built-in squeaker and durable construction. Not only are Clean Earth toys recyclable, but each toy can be recycled when you dog is done playing with it … which means Infinite Loop Recycling!
Large Seahorse measures approx. 32cm long x 18cm wide.
Small Seahorse measures approx. 24cm long x 15cm wide.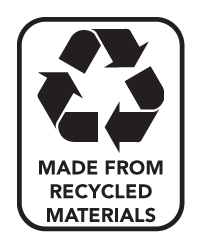 Made from 100% recycled plastic.
Can be recycled once finished with it.
No plastic packaging.
An eco-friendly toy alternative.
Durable squeaker.
Floats.
This toy is suitable for moderate play.
Not indestructible. Always supervise your dog with their toys. 
Light

Light-Moderate

Moderate

Moderate-Rough

Rough
WARNING:
Best suited to fetch play or gentle chewing.
Remove from pet if any part becomes loose or detached.
Please supervise your dog while playing and take away any loose pieces during play.